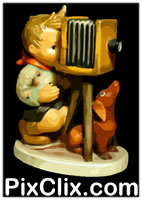 Are you looking for reliable image hosting for your auction photos?
STOP, look no further. We created PixClix just for hosting auction images. PixClix has a proven record of over 99% uptime, and is designed to be easy for the auction seller to use. Customer service is always available by either email or telephone, where you will find a real live person. What you won't find is any advertising, pop-ups, or other annoying items resulting from your use of PixClix Auction Image Hosting. Images depicting content inappropriate for a family audience are prohibited! Your image files will not be automatically deleted at the end of your auction or at the end of a 10, 20, or 30 day period. Your image hosting space is yours to manage as YOU desire, to fit your needs.
Try it out on our demo page to upload a sample auction image or two.
Our service is simple and easy to understand and so are our fees. PixClix will provide you up to 25 Megabytes of image hosting space for your auction images for a monthly fee of only $5.00 (paid quarterly).
Content is limited to image files of up to 250 Kilobytes in size with extensions of JPG, JPEG or GIF only. No executables, scripts, web pages, etc. (i.e. EXE, or HTM) files are allowed to be stored without prior permission of PixClix. See our Terms for more detailed information.
In case of difficulty, please email Customer Service at pixclix@rubyglass.com or call 713-410-1510 in order to reach customer service and a "real person" that will be eager to help you.